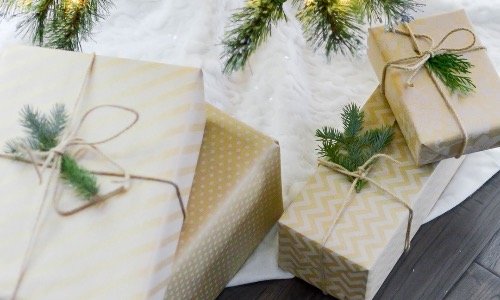 19 Nov

IT´S CHRISTMAS TIME … THE NOT ANOTHER GIFT GUIDE
IT´S CHRISTMAS TIME …
THE NOT ANOTHER GIFT GUIDE 2018
Merry Christmas and a happy new year…
Christmas is just around the corner and the search for matching gifts for our loved ones has begun. The NOT ANOTHER CONCEPT STORES team presents lovingly assembled gift boxes for him and her – the NOT ANOTHER GIFT BOXES. Only for men: "The Gentlemen-Box", filled with a warm wool hood from Buffet Clothing, a simple purse from the Viennese label Glein and the private mix Hand & Bodylotion from Saint Charles. Or "The Weekend Hideaway" with an extraordinary hotel guide from The Monocle and a selection of Heinrich Barth Shower Gels with names like Dakar or Mykonos make you want to travel. For the ladies there is "The Glamour Girl" with the Glein Crossbody Bag in Burgundy, a KenichiWa Lipstick, KenichiWa Lip-/Eyeliner and KenichiWa Eyeshadow or the "Saturday Night Fever" Box with a Kayiko Love, Peace & Stand T-Shirt, a Vienna Fashion Week CD and a KenichiWa Miss Rose Lipstick. The team will also be happy to put together individual gift boxes on site!
In order to be suitably dressed for Christmas and New Year's Eve parties, the team presents the hottest winter trends from LYVEM, KLAR Klara Neuber, Kayiko and the German label Coco Lores, among others, who offer a 24-hour outfit with their elegant silk dresses. Warm leather down jackets from Mathis protect you from the freezing cold and attract a lot of attention.
And NOT ANOTHER has another surprise in store for you: from the beginning of December, the much sought-after bags from the Swiss label QWSTION will be available for purchase in a specially set up QWSTION Gallery in the Concept Store. A good answer is the result of the right question: QWSTION make bags for everyday urban life by questioning current standards with regard to design and manufacture. The approach is influenced by the tradition of Swiss design, which combines timeless designs with practical details.
QWSTION stands for sustainable and flexible solutions for personal mobility. In the Zurich studio, the brand develops products between fashion and function that make everyday life easier as long-lasting companions.
CHRISTMAS PACKING STATION, URBAN CHRISTMAS POP UP with lifestyle labels LOVE Distribution & Aped and Designer Sample Sale by Viennese designer Nicola Fechter
So that you don't have to think about where and how to pack your presents this year, there will be the CHRISTMAS PACKING STATION in the first floor of the NOT ANOTHER CONCEPT STORES from December 1st to December 24th. Should you have bought your gifts in the Ringstrassen-Galerien you will receive a voucher for the Packing Station, should your gifts come from outside you will have to pay a small contribution towards expenses of € 5-10 depending on the size.
Many great packaging options are waiting for you here. The Packing Station is open Monday-Friday from 12.00-18.30 and Saturday from 12.00-17.30 for you, on 24.12. from 10:00-14:00.
Furthermore, the lifestyle labels LOVE Distribution and Aped will transform the first floor from 01 to 31 December with their URBAN CHRISTMAS Pop Up Store. Selected pieces from the skate and snowboard lifestyle labels LOVE and Aped as well as Street- & Graffiti Art will be on sale. And from 17 December, all bargain hunters will also have the opportunity to purchase selected pieces from current and past collections in the Designer Sample Sale by Viennese designer Nicola Fechter. A varied programme awaits you in December.