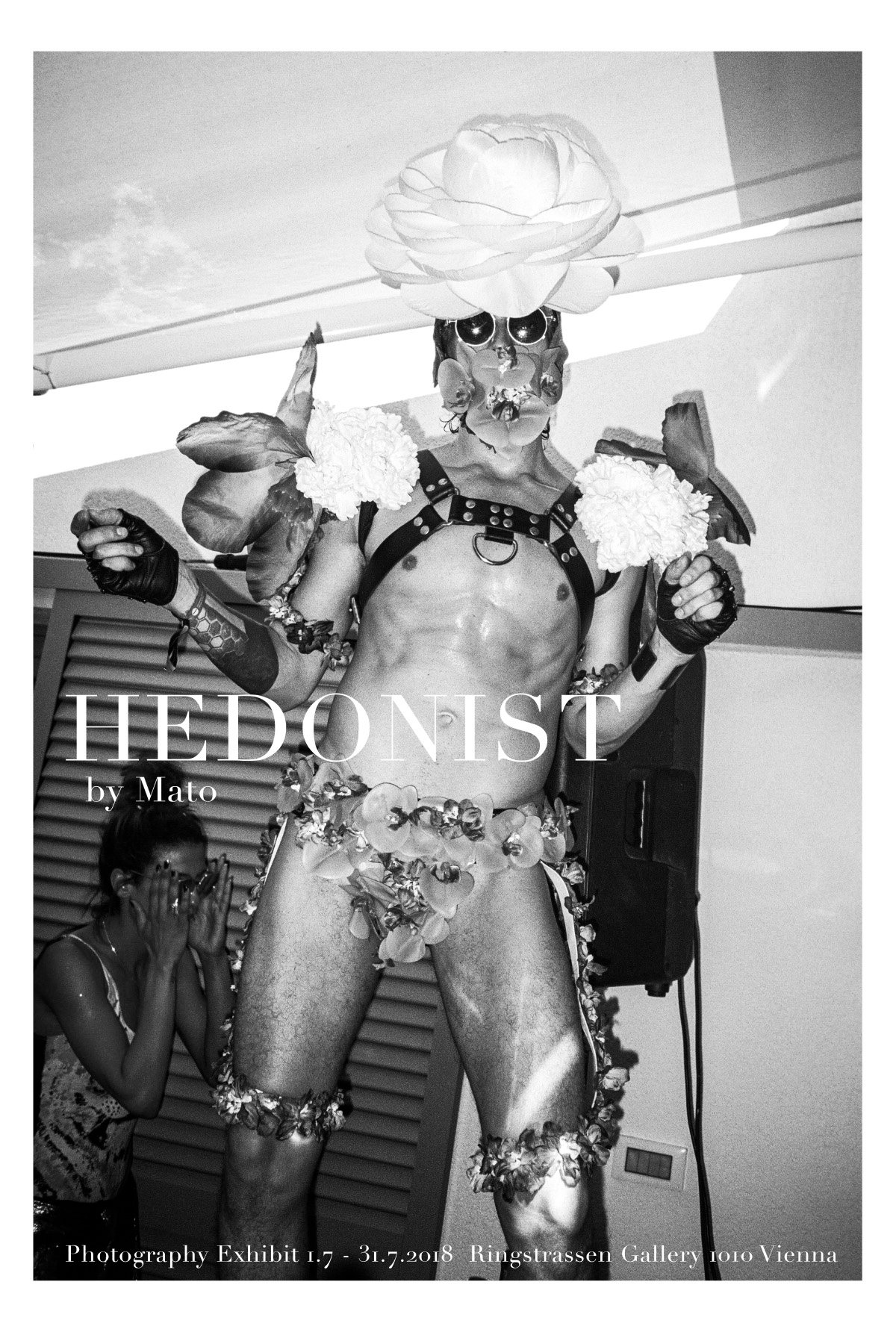 02 Jul

HEDONIST by Mato – a Photography Exhibition

HEDONIST – "Spass um zu Sein"

Eine exklusive Selektion an Photoarbeiten präsentiert Mato Johannik zum Thema zeitgenössische Hingabe dem Hedonismus. Seine Kamera erzählt von intimen Momenten tief geschöpft aus dem Jungbrunnen surrealistischem Eskapsimus und der Suche nach dem Schein. Das dokumentarische Bildwerk einschlägiger Feiern und Zeremonien aus aller Welt bilden den Kern einer sehr persönlichen Reise zwischen Selbstfindung und Zerstörung.
Interview: NOT ANOTHER

Photos: Mato Johannik / matophotography.com
NOT ANOTHER: Du hast das Brooks Institute of Photography in Kalifornien besucht und anschließend für namhafte Fotografen wie Steven Klein, David Lachapelle und Greg Gorman gearbeitet. Wie bist du zur Fotografie gekommen und was hat dich in die Staaten verschlagen?
MATO: Hatte 2 Jahre in New York als Photomodel gearbeitet, gute Zeit gehabt und dann beschlossen mit meiner damaligen Freundin nach Los Angeles zu ziehen. Dort war mir dann Hollywood zum Modeln und Schauspielen zu 0815 und ich habe beschlossen eine Ausbildung in Photographie und Film zu machen. 2000 wurde ich bei Brooks Institute of Photography aufgenommen. Durch das Renomee der Schule hatte ich dann auch schnell eine Konnektion zu den Top Shootern im Business und konnte mich als Goto-Assistent etablieren.
NOT ANOTHER: Zurück in Wien konntest du deine gewonnene Expertise als Photographic Director und Co-Founder des peng! Magazins unter Beweis stellen. Wie kam es zu der Zusammenarbeit mit Roman Globan und dem peng! Team?
MATO: Nach all den Celebrities in LA, wollte ich wieder Mode photographieren und da kam ich mit Roman als Wiener Topstylisten in Kontakt. Da Österreich in Sachen High End Mode Magazinen eigentlich immer Entwicklungsland war , und wir immer schon mal was richtig "fettes" anreissen wollten, beschlossen wir mit gemeinsamen Kräften Peng! auf die Welt zu bringen. Eine Legende war geboren!
NOT ANOTHER: Auch wir durften schon des Öfteren mit der arbeiten, unter anderem hast du dich für die Kampagne der MQVFW17 verantwortlich gezeigt. Deine Bildsprache ist anders, gewagter und surrealistischer als die des "klassischen" Kampagnenfotografen. Was inspiriert dich? Und was hat dich im speziellen zu dieser Kampagne inspiriert?
MATO: Für die Kampagne für MQFW17 schwebte mir etwas bewegtes, wildes vor. Meine Affinität zu elektronischer Music und Clubkultur inspirierte mich zu einem Crossover zwischen Fashion und Party…. das hat dann ziemlich gefetzt!
NOT ANOTHER: Du zeigst nun einen Monat lang deine Ausstellung "HEDONIST" im NOT ANOTHER Concept Store. Was ist die Geschichte hinter den Bildern? Woher kommt deine Faszination das Surreale bildlich einzufangen? Erzähl uns mehr über die Ausstellung…
MATO: Ich zähle mich zu einer Party Generation, die nie aufhören will Spass zu haben und Neues zu erleben und zu erforschen. Immer wieder einen neuen, stärkeren Kick zu erfahren ist das Um und Auf, und man darf sich auch nie zu alt dazu fühlen. Das ganze hat natürlich auch seine Schattenseiten, denn ewig kann man dem Eskapismus nicht fröhnen. Diese Attitude habe ich bei vielen Leuten über die Jahre photographisch dokumentieren dürfen. Dabei geht es vor allem um die Befreiung von gewissen gesellschaftlichen Zwängen, "funktionieren" zu müssen und sich vor dem konservativen, sicheren Lebensweg, der uns von unseren Eltern nahegelegt worden war, zu hüten. Photographie ist dabei meine Droge mein Antrieb gewesen, immer am Auslöser zu hängen craziere und geilere Bilder zu snappen. In diesem Rausch werden die Bilder dann immer extremer und finden, obwohl real und uninszeniert schnell einen fliesenden Übergang ins Surrealistische.
Vielen Dank für das nette Gespräch.
Die Ausstellung "HEDONIST" by Mato ist von 02. – 31. Juli 2018 im
NOT ANOTHER CONCEPT STORE zu sehen.
Mo-Fr 10.00-19.00
Sa 10.00-18.00